外科病理学实践:诊断过程的初学者指南 | 第14章 睾丸
第14章 睾丸(Testis)
The testis is not a common specimen. Resections in children or young adults may be due to a nonneoplastic condition such as torsion, which produces the relatively nonspecific picture of hemorrhage and/or ischemic necrosis. Uncommonly in young children, undescended (cryptorchid) testes are removed because of an increased risk of developing germ cell tumors. There are also a few tumors that typically only occur in children. Most testicular tumors occur in men in their twenties to forties, although they also occur in the elderly.
睾丸标本不常见。儿童或年轻人的睾丸切除可能是由于非肿瘤性疾病,如扭转,从而产生相对非特异性的出血和/或缺血性坏死。少数情况下,幼儿的未下降睾丸(隐睾)被切除,因为形成生殖细胞肿瘤的风险增加。还有少数肿瘤通常只发生在儿童。大多数睾丸肿瘤发生在20多岁到40多岁的男性,但老年人也可以发生。
正常组织学(Normal Histology)
The testis is composed of a tightly packed collection of tubules. In the prepubertal testis, the tubules are lined with spindly, radially arranged Sertoli cells and rare spermatogonia. After puberty, spermatogenesis begins, and the tubules are dominated by the developing spermatocytes. Maturation is completed near the lumen of the tubules, where you can see tiny sesame seed–like spermatids (which grow tails to become spermatozoa). Polygonal pink Leydig cells in the interstitium produce testosterone (Figure 14.1).
睾丸由紧密排列的小管组成。在青春期前的睾丸中,小管衬覆着梭形、放射状排列的支持细胞(Sertoli细胞)和很少精原细胞。青春期后,精子发生开始,小管内主要是发育中的精母细胞支配。成熟是在小管管腔附近完成的,在那里你可以看到像芝麻籽一样的微小精子细胞(它们长出尾巴变成精子)。间质中的多边形粉红色间质细胞(Leydig细胞)产生睾酮(图14.1)。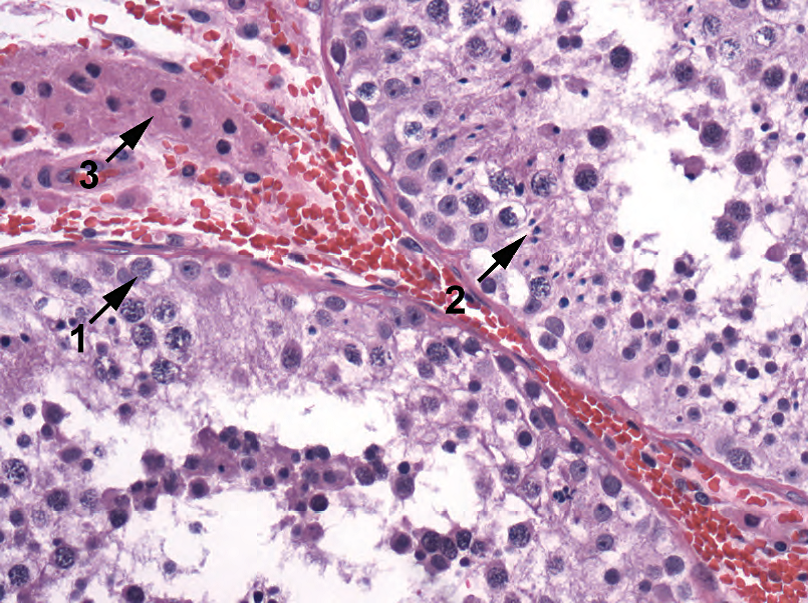 Figure 14.1. Normal seminiferous tubules. Large spermatogonia with clear cytoplasm are present at the tubule periphery (1). The developing spermatocytes have a wide range of morphologies, ending with the tiny spermatids (2), a marker of successful spermatogenesis. Plump pink Leydig cells are seen in the interstitium (3).
图14.1.正常生精小管。小管周围有大的精原细胞,细胞质透明(1)。发育中的精母细胞具有广泛的形态,最终形成微小的精子细胞(2),这是精子发生成功的标志。间质中可见丰满的粉红色间质细胞(3)。
Sperm leave the testis via the rete testis (Figure 14.2), a collection of epithelial-lined slitlike channels at the hilum of the testis, which lead into the epididymis, which eventually feeds into the vas deferens. The epididymis is lined by a pseudostratified and ciliated epithelium (Figure 14.3).
精子通过睾丸网(图14.2)离开睾丸,睾丸网位于睾丸门,是一团衬覆上皮的裂隙样通道,后者进入附睾,最后进入输精管。附睾内衬假复层纤毛上皮(图14.3)。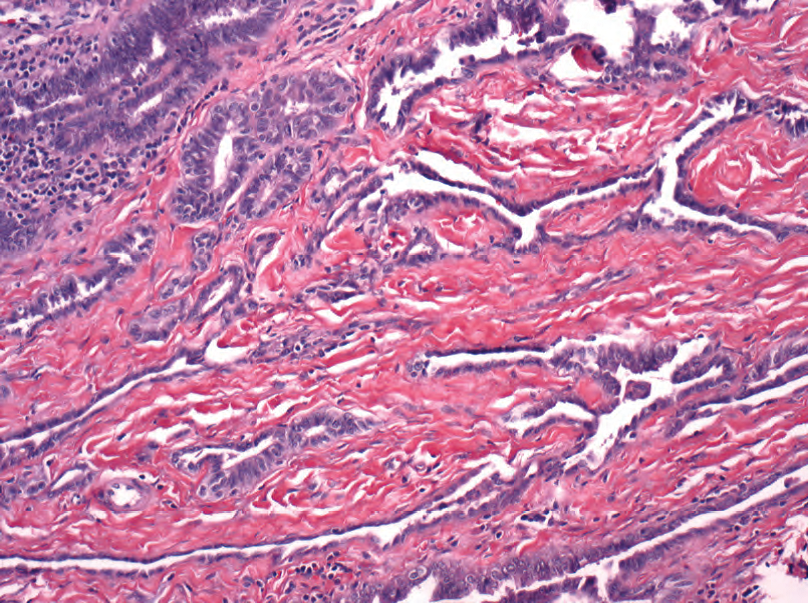 Figure 14.2. Normal rete testis. Slit-like spaces with cuboidal epithelium.
图14.2.正常睾丸网。狭缝状空隙,有立方上皮。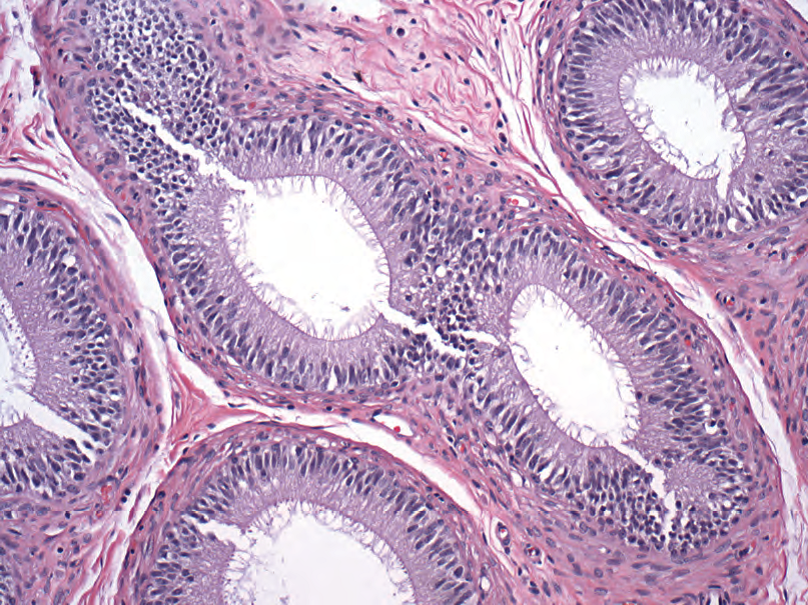 Figure 14.3. Normal epididymis. Columnar epithelium with cilia.
图14.3.正常附睾。柱状上皮,有纤毛。
婴幼儿和儿童的睾丸切除术(Orchiectomy in Infants and Children)
In the setting of an undescended testis, the testis may be removed to prevent the development of a germ cell neoplasm. The typical cryptorchid testis shows small atrophic seminiferous tubules, fibrosis, and widened interstitial spaces (Figure 14.4). A related finding is the "vanishing testis syndrome" in which, upon surgical retrieval of the undescended testis, there is nothing but a nub of fibrosis and dystrophic calcification attached to an epididymal remnant. These conditions are generally signed out descriptively.
在隐睾的情况下,可以切除睾丸以防止发生生殖细胞肿瘤。典型的隐睾睾丸表现为小而萎缩的生精小管、纤维化和增宽的间质分布(图14.4)。一个相关的发现是"睾丸消失综合征",在手术切除隐睾后,附睾残迹上除了一点点纤维化和营养不良钙化外,什么也没有。这些情形通常签发描述性报告。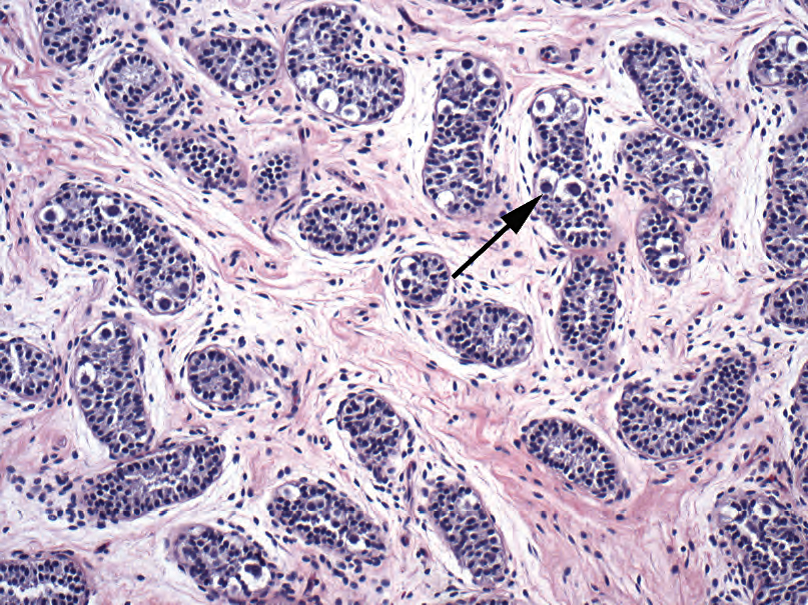 Figure 14.4. Cryptorchidism. In the infant testis, large dark spermatogonia are visible (arrow).
图14.4.隐睾症。在婴儿睾丸中,可见大而深染的精原细胞(箭头)。
不育(Infertility)
A testis biopsy may be indicated in the workup of a persistent low sperm count (male infertility). From the pathologists' perspective, the options are the following:
精子计数持续低下(男性不育症)可能需要做睾丸活检。从病理医生的角度来看,选项如下:
Aplasia(or Sertoli-only syndrome, a total lack of germ cells; Figure 14.5)

发育不全(或仅有支持细胞综合征,完全缺乏生殖细胞;图14.5)
Figure 14.5. Sertoli-only syndrome in an adult. The tubules are lined with spindly Sertoli cells, and no germ cells are visible.
图14.5.成人仅有支持细胞综合征。小管内衬梭形支持细胞,看不到生殖细胞。
Hypospermatogenesis (decreased spermatogenesis in most tubules)

精子发生减少(大多数小管中精子发生减少)

Maturation arrest (when there is partial maturation but no spermatids produced)

成熟停滞(部分成熟但未产生精子细胞)

"End-stage testis" (global sclerosis and atrophy, no functioning tubules)

"终末期睾丸"(全面硬化和萎缩,无功能性小管)

Normal spermatogenesis (implying a distal obstruction)

精子发生正常(意味着远端梗阻)
肿瘤(Tumors)
生殖细胞肿瘤(Germ Cell Tumors)
Germ cell tumors, which include seminoma, teratoma, yolk sac tumor, choriocarcinoma, and embryonal carcinoma, can all occur as pure tumors in and of themselves, but they do have a tendency to collide in adults, with the resulting mixture called a mixed germ cell tumor (MGCT). Here, they will be described individually, but remember that for any adult neoplasm you are trying to identify every component present.
生殖细胞肿瘤,包括精原细胞瘤、畸胎瘤、卵黄囊瘤、绒毛膜癌和胚胎性癌,它们本身都可以作为纯型肿瘤发生,但它们在成人中确实有碰撞的倾向,由此产生的混合称为混合性生殖细胞肿瘤(MGCT)。在这里,它们将被单独描述,但请记住,对于任何成人肿瘤,你都要努力识别肿瘤中出现的每种成分。
These neoplasms are notorious for their rare ability to nearly completely regress in the testis, leaving behind mainly a fibrotic scar. This does not, however, mean that they have not already metastasized.
睾丸内的这些肿瘤臭名昭著,罕见情况下,它们在睾丸内几乎完全消退而变成纤维性瘢痕为主的残留物。但并不意味着它们尚未转移(译注:其实很可能已经发生了转移)。
精原细胞瘤(经典型)(Seminoma (Classic Type))
The seminoma is the most common germ cell neoplasm in adults. In typical form it is a large nodular mass in the testis. Microscopically, it is poorly circumscribed and infiltrates in between tubules at the periphery. The histologic features (Figure 14.6) include the following:
精原细胞瘤是成人最常见的生殖细胞肿瘤。典型表现为睾丸内结节状大肿块。显微镜下,其界限不清,并浸润到周围小管之间。组织学特征(图14.6)包括: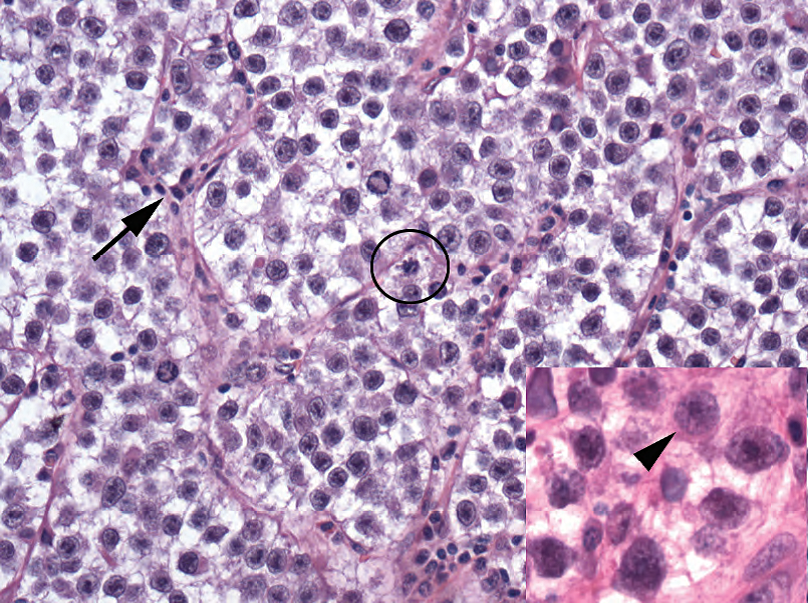 Figure 14.6. Seminoma, classic type. Delicate fibrovascular septae divide the cells into packets (arrow); collections of lymphocytes can be seen along the septae. The nuclei are widely spaced, with clear cytoplasm. Mitoses are common (circle). Nuclei have distinct nuclear membranes and prominent nucleoli (arrowhead).
图14.6.精原细胞瘤,经典型。纤细的纤维血管间隔(箭号)将细胞分成小团巢;沿着间隔,可见淋巴细胞聚集。核间距宽,细胞质透明。核分裂常见(圆圈)。细胞核有清晰的核膜和显著的核仁(箭头)。
An array of large, round, coarse nuclei, nonoverlapping and nonmolding, suspended in a network of delicate cell membranes

许多大圆核,染色质粗糙,不重叠,不镶嵌,悬浮在纤细的细胞膜网格中

One to two prominent central nucleoli

一到两个显著的中央核仁

Associated inflammation, especially lymphocytes, granulomas, and fibrosis

伴有炎症,尤其是淋巴细胞、肉芽肿和纤维化

Delicate branching fibrovascular septa

纤细分支状纤维血管间隔

Surrounding intratubular germ cell neoplasia (see below)

周围小管内生殖细胞瘤(见下文)
The classic type of seminoma has fairly monomorphic cells; at low power this uniformity can be deceptively bland. It may occur in pure form, but all tumors should be carefully sampled for other germ cell components (in which case it becomes an MGCT).
经典型精原细胞瘤具有形态学相当单一的细胞;在低倍镜下,这种均质性可能貌似温良。它可能是纯型肿瘤,但所有肿瘤都要仔细取材,以寻找其他生殖细胞肿瘤成分(若有,则变成MGCT)。
小管内生殖细胞肿瘤(Intratubular Germ Cell Neoplasia)
Think of intratubular germ cell neoplasia (IGCN) as the carcinoma in situ of the testis. It is actually very hard to spot, as normal spermatogenesis creates some strange looking cells. The easiest way to find IGCN is to slowly scan the tubules at 4×, looking for areas that stand out as having scattered dark, or large, or fried egg–type cells. Another approach is to study the seminomatous cells in the main tumor and look for similar cells in the adjacent tubules. An IGCN may be as subtle as a few big cells in the tubule, spreading in pagetoid fashion, or as obvious as a lumen packed with malignant cells (Figure 14.7). An IGCN is often seen next to seminomas (classic type), embryonal carcinomas, or choriocarcinomas. It is helpful because it confirms that you have a germ cell neoplasm (as opposed to a carcinoma or lymphoma). The following features help distinguish spermatogonia from IGCN:
将小管内生殖细胞瘤(IGCN)视为睾丸的原位癌性质。这实际上很难发现,因为正常的精子发生会产生一些看起来很奇怪的细胞。找到IGCN最简单的方法是在4倍镜下缓慢扫描小管,寻找散在的深染的、大的或煎鸡蛋样的细胞的与从不同区域。另一种方法是仔细主要肿瘤中的精原细胞瘤细胞,并在相邻的小管中寻找类似的细胞。IGCN可能细微,仅有小管中的几个大细胞,也可能以佩吉特样方式扩散,IGCN还可以很明显,呈现充满恶性细胞的管腔(图14.7)。IGCN常见于精原细胞瘤(经典型)、胚胎性癌或绒毛膜癌的旁边。这是有帮助的,因为它确认生殖细胞肿瘤(与癌症或淋巴瘤相反)。(译注:查见原位肿瘤证明相应的浸润性肿瘤是原发的,这可能比免疫组化更可靠)。以下特征有助于区分精原细胞和IGCN:
Figure 14.7. Intratubular germ cell neoplasia. Large cells with clear halos of cytoplasm and prominent nucleoli are seen at the tubule perimeter (1). Other malignant nuclei appear hyperchromatic and solid (2). Compare the malignant cells to the euchromatin of nearby endothelial cells (3).
图14.7.小管内生殖细胞瘤。小管周围可见大细胞,胞质有透明空晕,核仁显著(1)。其他恶性细胞核呈深染和实性(2)。比较恶性细胞和附近内皮细胞的常染色质(3)。
精母细胞性精原细胞瘤(Spermatocytic Seminoma)
Many organ systems have low-grade, indolent, better differentiated versions of their neoplasms. Spermatocytic seminoma is the indolent seminoma in that it does not metastasize. It occurs in older men and has seminoma-like cells, except in three cell sizes: small, medium, and large. This tumor also lacks inflammation and PLAP positivity. It is the one tumor type not found in mixed germ cell tumors, nor is it associated with IGCN.
许多器官系统具有低级别、惰性、分化较好的肿瘤。精母细胞性精原细胞瘤是惰性精原细胞瘤,因为它不会转移。它发生于老年男性,有精原细胞瘤样细胞,但有三种细胞大小:小、中、大。该肿瘤也缺乏炎症和PLAP阳性。这种肿瘤未见于混合性生殖细胞肿瘤中,也不伴有IGCN。
(译注:补充精母细胞性精原细胞瘤的图,如下。图中Lymphocyte-like cells,淋巴细胞样细胞,即小细胞。Intermediate cells,中等细胞。Giant cells,巨细胞,即大细胞。)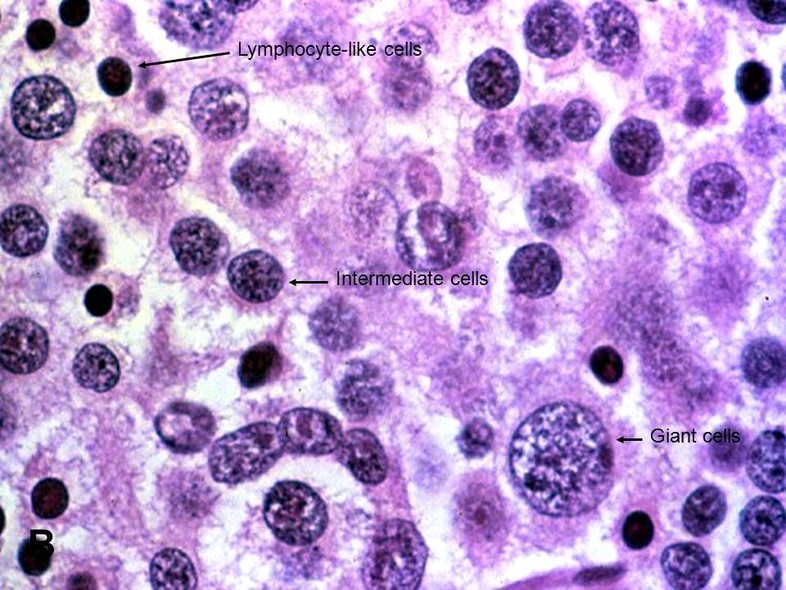 胚胎性肿瘤(Embryonal Tumor)
Rare as a pure tumor, embryonal tumors are a common component of MGCT. Remember embryonal as the ugly one. The cells are very pleomorphic, with hyperchromatic, angular, overlapping, or molding nuclei and large nucleoli (Figure 14.8). It looks epithelioid, like a carcinoma, and is in fact keratin positive. The architecture is solid, glandular, or papillary.
胚胎性肿瘤很少是纯型肿瘤,而是MGCT的常见组成部分。记住它的形态学是丑陋的。细胞多形性非常明显,有深染的、成角的、重叠的或镶嵌的核和大核仁(图14.8)。它看起来像上皮样形态,像是癌,实际上角蛋白阳性。其结构为实性、腺性或乳头状。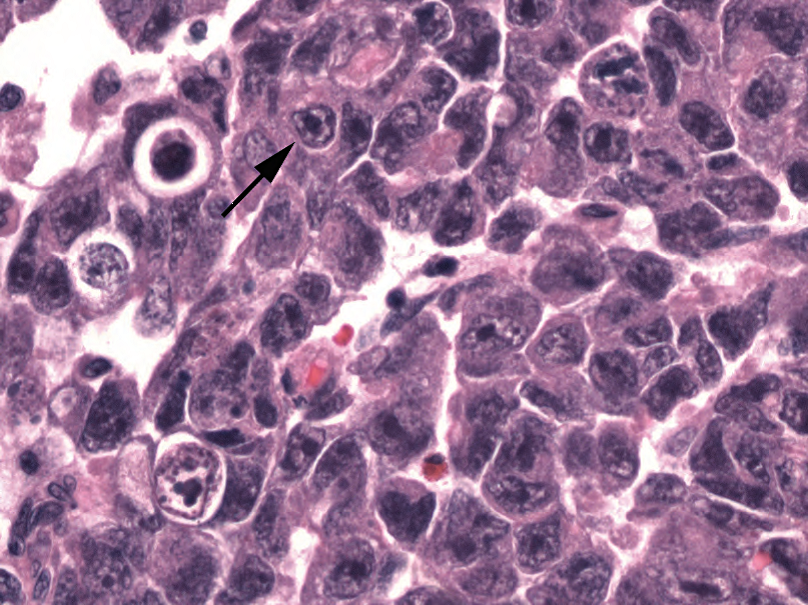 Figure 14.8. Embryonal carcinoma. Large epithelioid cells with pleomorphic nuclei grow in sheets. Unlike in seminoma, the cytoplasm is dense, and the nuclei have irregular shapes and sizes, some showing nuclear molding. Many have coarse chromatin with dark nuclear membranes and prominent nucleoli (arrow).
图14.8.胚胎性癌。上皮样大细胞,多形性核,成片生长。与精原细胞瘤不同,胚胎性癌的细胞质深染,核形状和大小不规则,有些表现为核镶嵌。许多核显示染色质粗糙,核膜深染,核仁显著(箭)。
卵黄囊瘤(内胚窦瘤)(Yolk Sac Tumor (Endodermal Sinus Tumor))
Yolk sac tumor is the most common testicular neoplasm in children (in pure form), but it is also a common component of MGCT. It is famous for its many forms, especially microcystic and reticular (net-like). The pathognomonic finding is the Schiller-Duval body, a little glomeruloid form, but these are not always seen. The nuclei tend to be somewhat smaller and a little more regular than embryonal carcinoma, yet more atypical than seminoma (Figure 14.9). When found next to embryonal carcinoma, these areas look hypocellular and myxoid in comparison to the large epithelioid embryonal cells.
纯型卵黄囊瘤是儿童最常见的睾丸肿瘤,也是MGCT的常见组成部分。它很有名,因为有多种形态,最常见为微囊结构和网状结构。诊断性特征是席勒-杜瓦尔(Schiller-Duval)小体,一种小的肾小球样结构,但并不总是可见。与胚胎性癌相比,它的核略小一些,稍规则一些,但比精原细胞瘤的异型性更大(图14.9)。如果发生在胚胎性癌旁边,可以发现,它与胚胎性癌的上皮样大细胞相比,卵黄囊瘤区域看起来是细胞稀少和黏液样。
Figure 14.9. Yolk sac tumor. The cells of yolk sac tumor often appear more low grade than other germ cell tumor types. The cells are cuboidal, with pink cytoplasm, and have a tendency to pull apart into a microcystic pattern (shown here).
图14.9.卵黄囊瘤。卵黄囊瘤的细胞通常比其他类型生殖细胞肿瘤的细胞级别低。这些细胞呈立方形,细胞质呈粉红色。细胞有分散开并形成微囊模式的倾向(此图所示)。
绒毛膜癌(Choriocarcinoma)
Choriocarcinoma is a rare tumor, especially in pure form. Like the placental tumor, it is characterized by two cell types (cytotrophoblast and syncytiotrophoblast), lots of blood, and human chorionic gonadotropin production. Also like the placenta, this tumor is very good at invading blood vessels, and widespread metastases are common. Syncytiotrophoblasts, the multinucleated giant cells that stain for human chorionic gonadotropin, can show up in other germ cell tumors; this does not make them choriocarcinomas. The cytotrophoblasts resemble embryonal carcinoma, but the nuclei are smaller and not quite so pleomorphic, and the cytoplasm is pale.
绒毛膜癌是一种罕见的肿瘤,尤其是纯型。与胎盘绒癌一样,它的特征是两种细胞类型(细胞滋养细胞和合体滋养细胞)、大量血液(译注,即出血)和人绒毛膜促性腺激素(HCG)的产生。肿瘤很容易侵犯血管(译注,因为肿瘤本身没有血管),并且广泛转移很常见。合胞滋养细胞是多核巨细胞,呈HLP(人绒毛膜促性腺激素)阳性,可以出现在其他生殖细胞肿瘤中;这并不意味着这种肿瘤就是绒毛膜癌。细胞滋养层类似于胚胎性癌,但细胞核较小,多形性不太明显,细胞质淡染。
畸胎瘤(Teratoma)
A teratoma is a neoplasm composed of elements of the primitive germ layers: ectoderm (skin, central nervous system), mesoderm (cartilage, bone), and endoderm (gut, viscera), but not all layers have to be present in a tumor to call it a teratoma. Pure teratomas are found in prepubertal boys and are always considered benign in this population. In contrast, in postpubertal males, teratomas are malignant and are usually seen in the context of mixed germ cell tumors. A pure teratoma in an adult male is still malignant whether or not it contains immature elements (i.e., immature neural tissue), so there is no need to comment if a testicular teratoma is immature or mature (this is in contrast to teratomas in females). Rarely, teratomas can develop non–germ cell tumors, such as carcinomas, sarcomas, or "small blue cell tumors."
畸胎瘤起源于原始生殖细胞,有多个胚层的分化:外胚层(皮肤、中枢神经系统)、中胚层(软骨、骨)和内胚层(肠道、内脏),但肿瘤中并非所有胚层都会出现。纯型畸胎瘤见于青春期前男孩,通常是良性。相反,在青春期后男性畸胎瘤是恶性的,通常见于混合性生殖细胞肿瘤。成年男性的纯畸胎瘤无论是否含有未成熟成分(即未成熟的神经组织),仍然是恶性的,因此无需评估睾丸畸胎瘤是未成熟还是成熟的(这与女性畸胎瘤相反)。畸胎瘤很少会发展成非生殖细胞肿瘤,如癌、肉瘤或"小蓝细胞肿瘤"。
性索间质肿瘤(Sex Cord Stromal Tumors)
The sex cord stromal tumors include the Sertoli cell and Leydig cell tumors. They are not germ cell neoplasms and are usually benign. They resemble their normal counterparts, so a tumor of oncocytic pink cells with very round nuclei is likely to be a Leydig cell tumor (Figure 14.10), and a collection of primitive tubules lined with spindly cells and oval nuclei is likely to be a Sertoli cell tumor (Figure 14.11). In both tumors, approximately 10% behave badly, but there are no hard criteria by which to predict malignancy. The usual rules apply (atypia, mitotic rate, necrosis, vascular invasion, and invasion beyond the testis all suggest poor prognosis).
性索间质肿瘤包括支持细胞肿瘤和间质细胞肿瘤。它们不是生殖细胞肿瘤,通常是良性的。它们类似于正常的对应成分,因此核很圆的粉红色嗜酸细胞肿瘤可能是间质细胞肿瘤(图14.10),而衬覆梭形细胞和卵圆形核的原始小管聚集而成的肿瘤可能是支持细胞肿瘤(图14.11)。在这两种肿瘤中,约有10%的生物学行为不好,但没有预测恶性的严格标准。可以使用一些通用的规则(异型性、核分裂率、坏死、血管浸润和睾丸外浸润均提示预后不良)。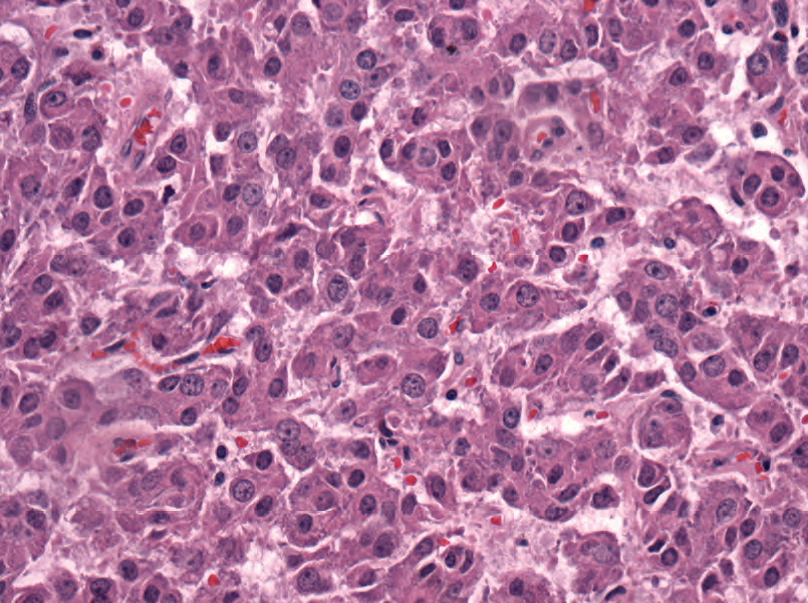 Figure 14.10. Leydig cell tumor. These neoplasms are reminiscent of oncocytomas in other sites. Most are benign.
图14.10.间质细胞肿瘤。这些肿瘤让人想起其他部位的嗜酸细胞瘤。大多数是良性的。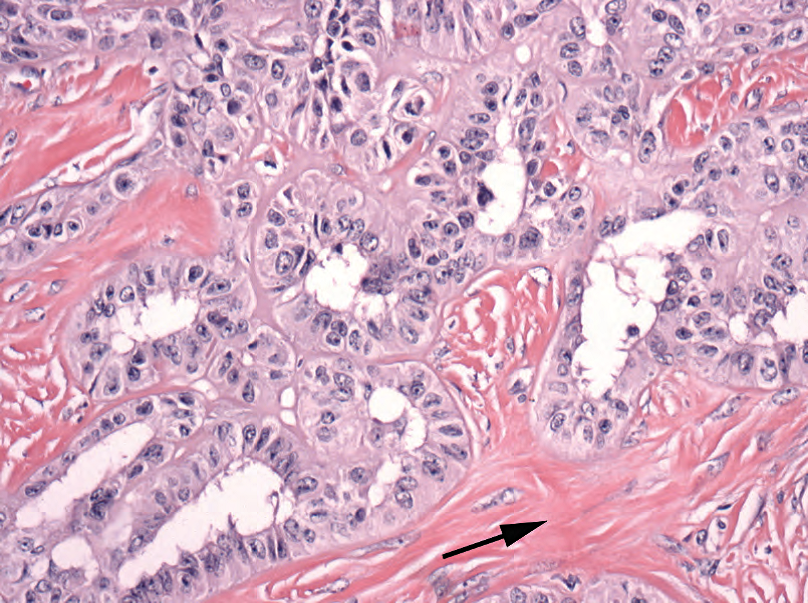 Figure 14.11. Sertoli cell tumor. This tumor attempts to recapitulate the seminiferous tubules. The stroma may become hyalinized (arrow).
图14.11.支持细胞瘤。这个肿瘤试图重现生精小管。间质可能变成玻璃样变(箭)。
淋巴瘤(Lymphoma)
While uncommon in the testis, lymphoma is always in the differential diagnosis when sheets of discohesive malignant cells are present. Lymphoma can look like seminoma, yet the cells are not as homogeneous. The usual type is diffuse large B cell, which means CD20-positive cells with large nuclei, often with vesicular chromatin and large nucleoli (Figure 14.12). Lymphoma occurs in an older age group than seminoma and should not have any IGCN.
虽然少见于睾丸,但当出现成片的不粘附的恶性细胞时,鉴别诊断总是要考虑到淋巴瘤。淋巴瘤可能看起来像精原细胞瘤,但细胞并不均匀。常见类型是弥漫大B细胞淋巴瘤,这意味着CD20阳性细胞具有大的细胞核,通常具有空泡状染色质和大核仁(图14.12)。淋巴瘤的发病年龄大于精原细胞瘤,不应有任何IGCN。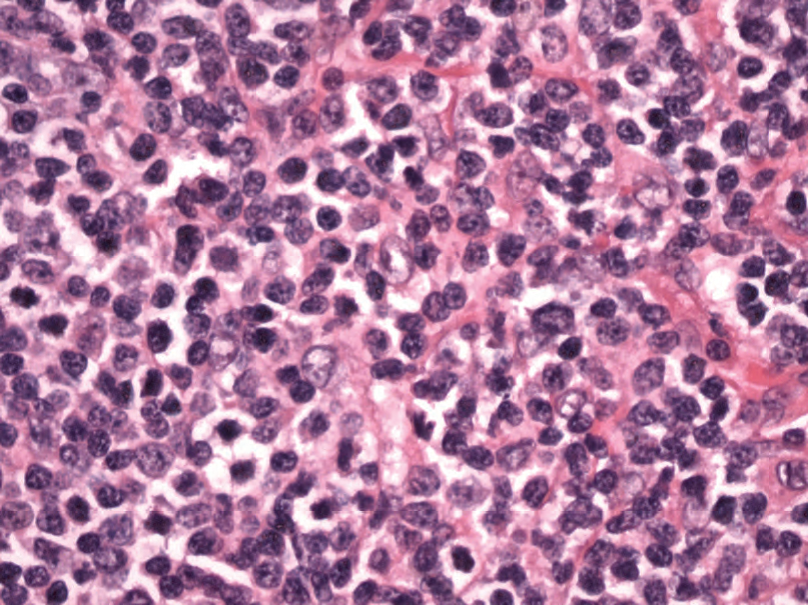 Figure 14.12. Diffuse large B-cell lymphoma. The main histologic feature is sheets of discohesive tumor cells. Nuclear chromatin is chunky.
图14.12.弥漫大B细胞淋巴瘤。主要的组织学特征是成片的不粘附的肿瘤细胞。核染色质粗块状。
睾丸外(Outside the Testis)
All of the germ cell tumors can also occur in other body locations, mainly in the midline (e.g., sacrum, mediastinum, sella or pineal in brain). A germ cell tumor in the brain is called a germinoma. These neoplasms can also occur in the female ovary. A seminoma occurring in the ovary is called a dysgerminoma. Yolk sac tumors, embryonal carcinomas, and teratomas can occur in ovary. Choriocarcinoma is more commonly associated with placental tissue in women but can also arise in the ovary. Sex cord stromal tumors also arise in women, usually of the thecoma and granulosa cell groups, but Sertoli and Leydig cell tumors can also develop. Strangely, you can also rarely see granulosa cell tumors in the testis. In fact, when presented with a tumor in the testis or ovary that looks like nothing you recognize, the sex cord stromal tumors are a good place to start.
所有生殖细胞肿瘤也可发生在身体其他部位,主要发生在中线(例如,骶骨、纵隔、蝶鞍或大脑松果体)。大脑中的生殖细胞肿瘤称为生殖细胞瘤。这些肿瘤也可发生在女性卵巢。发生在卵巢的精原细胞瘤称为无性细胞瘤。卵巢可发生卵黄囊瘤、胚胎性癌和畸胎瘤。绒毛膜癌更常见于女性胎盘组织,但也可发生在卵巢。性索间质肿瘤通常也发生在女性,包括支持细胞肿瘤和间质细胞肿瘤。奇怪的是,睾丸中很少见到粒层细胞瘤(granulosa cell tumor)。事实上,当睾丸或卵巢出现的肿瘤让你看上去什么都不认识,可以先考虑性索间质肿瘤。
(译注:注意区分粒层细胞瘤(granulosa cell tumor),颗粒细胞瘤(granular cell tumor))
---
来源:
The Practice of Surgical Pathology:A Beginner's Guide to the Diagnostic Process
外科病理学实践:诊断过程的初学者指南
Diana Weedman Molavi, MD, PhD
Sinai Hospital, Baltimore, Maryland
ISBN: 978-0-387-74485-8 e-ISBN: 978-0-387-74486-5
Library of Congress Control Number: 2007932936
© 2008 Springer Science+Business Media, LLC
仅供学习交流,不得用于其他任何途径。如有侵权,请联系删除。

本站欢迎原创文章投稿,来稿一经采用稿酬从优,投稿邮箱tougao@ipathology.com.cn
相关阅读
数据加载中
我要评论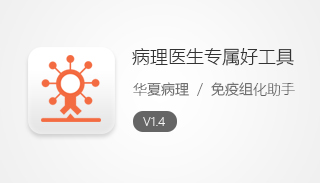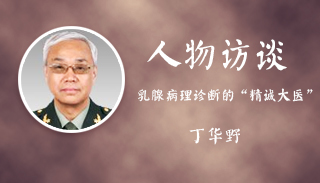 热点导读